Place • Measure • Improve
Mantec Technical Ceramics is a prime innovator in its field and, with many decades of experience to support its research efforts, has successfully developed Bullers™ Process Control Discs (BPCDs) as the new generation of Bullers Temperature Control Devices that accurately control and monitor 'heat work'.
Product Range
BPCDs have been designed so that they are suitable for any type of kiln/furnace. Due to the practical small size of BPCDs, they can be conveniently positioned in almost any location, which makes them ideal in the high temperature firing of technical and advanced ceramics, refractories, single/multilayer ceramic capacitors, ceramic insulators etc.
There are five main types of BPCDs available, all with a nominal diameter of 20mm and a nominal thickness of 3.5mm, covering a wide overlapping range of temperatures from 770°C (1418°F) to 1770°C (3218°F).

The most common applications for BPCDs are in the firing of:
Technical Ceramics
Advanced Ceramics
Refractories
Single & Multilayer ceramic capacitors (MLCC)
Ceramic insulators
Ferrites
Grinding Wheels
Contact Us
For further advice and information on our BPCDs, please email bullers@mantectc.com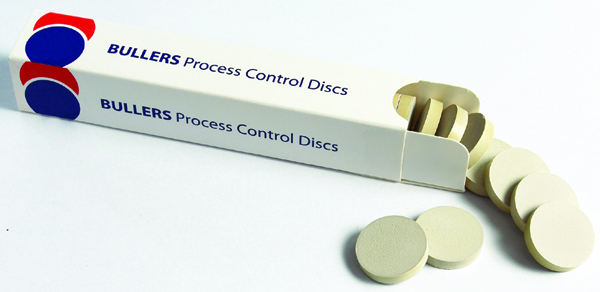 Open / Download